EC Group Datasoft Recruitment for Fresh Programmers at Chennai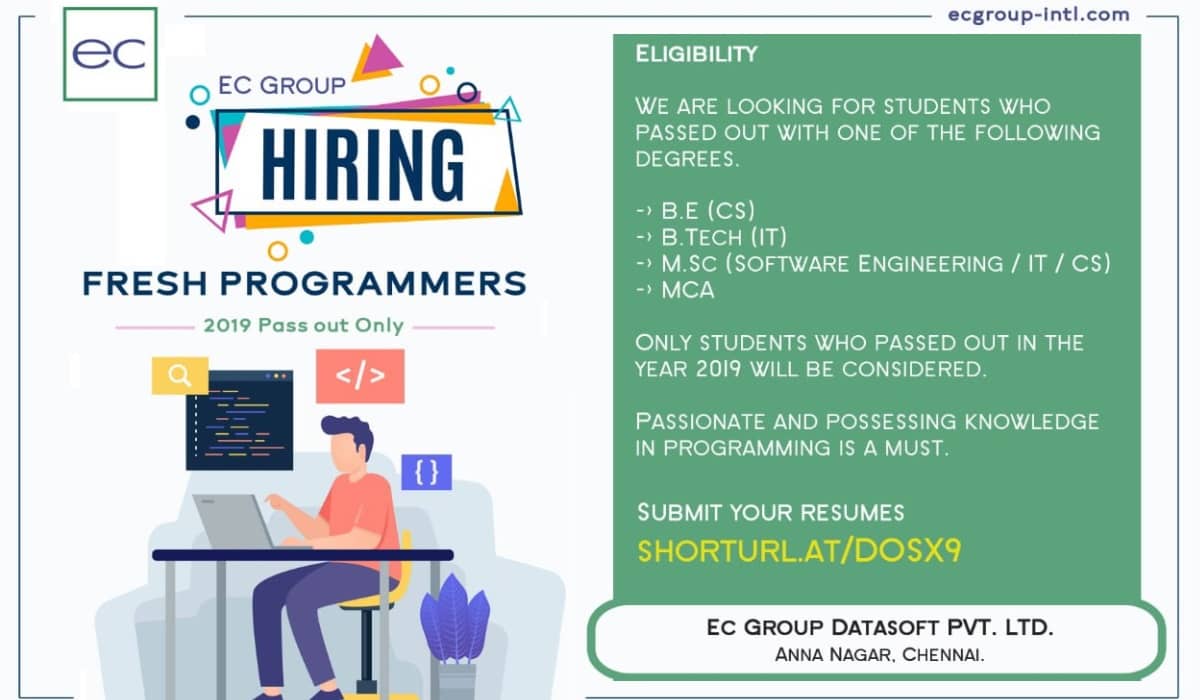 Fresh Programmers Hiring!

Thank you for your interest in applying for Fresh Programmers opening at EC Group!
Please read the below instructions before applying.
B.E (CS)
B.Tech (IT)
M.Sc (Software Engineering / IT / CS)
MCA
C#, CSS, JavaScript, HTML, OOAD, RDBMS
Clear oral and written communication is needed.
We are looking for students who passed out with one of the following degrees.
B.E (CS)
B.Tech (IT)
M.Sc (Software Engineering / IT / CS)
MCA
Only students who passed out in the year 2019 will be considered.
Passionate and possessing knowledge in programming is a must.
Exposure in C# / CSS / JavaScript / HTML is required.
Good knowledge in OOAD / RDBMS concepts is expected.
Your Resume (Less than 3MB) will have to be uploaded in PDF or MSWord Format.
Clear oral and written communication is needed.
Work Location: AnnaNagar, Chennai.
Your Resume (Less than 3MB) will have to be uploaded in PDF or MS Word Format.
Please read all job details clearly and apply exactly as mentioned below only if you meet eligibility criteria.
Note: Please apply quickly before this Job expires.
EC Group Datasoft Pvt. Ltd.
About Company: EC Group Datasoft is an American based Technology company, in the Indian business for about 20 years. EC Group works exclusively with Small and medium-Sized Enterprises (SMEs) in US that recognize the tremendous opportunity to increase their competitiveness through the utilization of global resources in India. We value direct relationships between the Client and the EC Group people that result in continued success and quality.