Goldman Sachs Engineering Campus Hiring Program, Last Date – 8 February 2021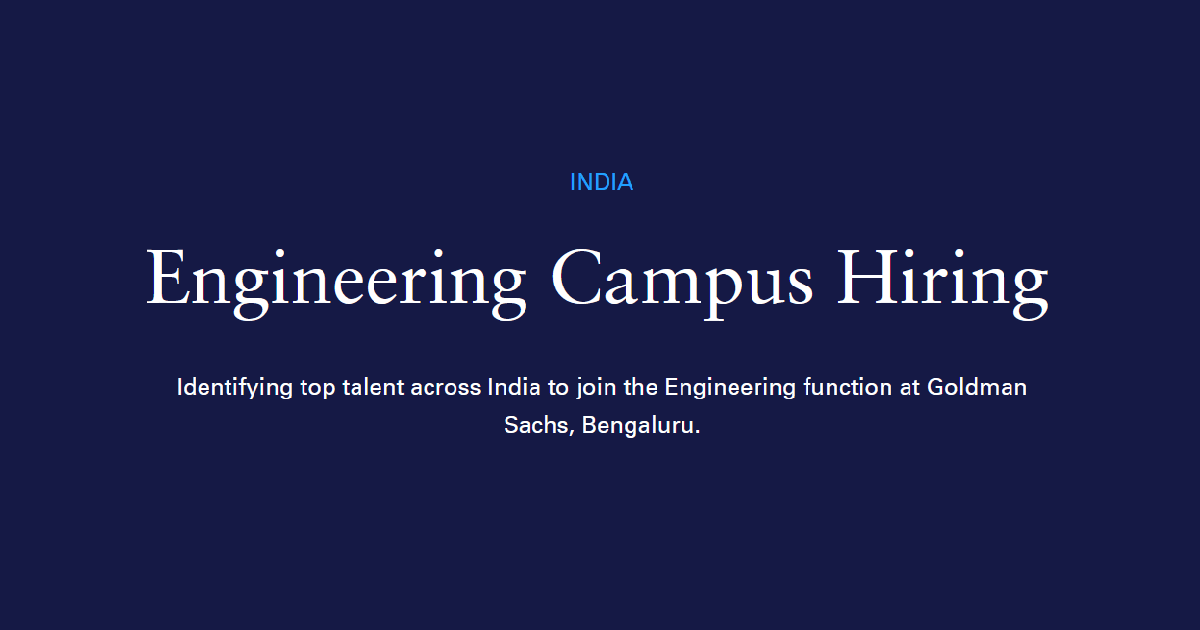 Table of Contents - Job -
Goldman Sachs
Goldman Sachs Engineering Campus Hiring Program
Goldman Sachs Recruitment for Analysts, Internships at Bangalore. Engineering Campus Hiring Program: Identifying top talent across India to join the Engineering function at Goldman Sachs, Bengaluru.
Analyst
Summer Internship
2021 Analyst: Graduation in 2021 (Full-time hire – May/June intake)
2021 Summer Internship: Graduation in 2022 (Intern hire – April/July intake)
Freshers, Interns, Entry Level
Program Type
Overview
The Engineering Campus Hiring Program is the firm's initiative to identify and hire top Engineering talent from across engineering schools in the country.
As part of the program candidates need to go through multiple assessment rounds, where they would be tested on their programming skills and analytical aptitude.
Candidates who successfully make it through the process will be offered a role in the Engineering function at Goldman Sachs in Bengaluru.
Eligibility
This program is open to all engineering students in India across pre-final & final year of graduation and post-graduation.
2021 Analyst: Graduation in 2021 (Full-time hire – May/June intake)
2021 Summer Internship: Graduation in 2022 (Intern hire – April/July intake)
Program Timelines
Registrations: January 20, 2021 – 9:00pm IST to February 8, 2021 – 11:59pm IST
Assessments: Mid-February to Mid-March
Interviews: March – April
Registration to the program does NOT guarantee selection or offer extension.
Goldman Sachs will be evaluating your candidacy on a number of factors and we will reach out to you if you meet our criteria at each stage of the program.
The decision of the company will be final and binding.
Please read all job details clearly and apply exactly as mentioned below only if you meet eligibility criteria.
Last Date to Apply: 08/02/2021
About Company: The Goldman Sachs Group, Inc. is a leading global investment banking, securities and investment management firm that provides a wide range of financial services to a substantial and diversified client base that includes corporations, financial institutions, governments and individuals. Founded in 1869, the firm is headquartered in New York and maintains offices in all major financial centers around the world.

At Goldman Sachs, we think who you are makes you better at what you do. For us, it's about bringing together people who make things possible for our clients and communities.

We commit people, capital and ideas to help our clients, shareholders and the communities we serve to grow. At Goldman Sachs, we:

Advise
We advise companies on buying and selling businesses, raising capital and managing risks, which enables them to grow.

Finance
We help local, state and national governments finance their operations so they can invest in infrastructure, like schools, hospitals and roads.

Transact
We transact for our clients in all key financial markets, including equities, bonds, currencies and commodities, so that capital flows, jobs are created and economies can grow.

Support
We help markets remain efficient and liquid, so investors and companies can meet their needs, whether to invest, raise money or manage risk.

Manage
We preserve and grow assets for institutions, including mutual funds, pension funds and foundations, as well as individuals.

Invest
We invest our capital alongside our clients' capital to help businesses grow.

Innovate
We develop ideas and analysis that drive new perspectives, new products and new paths to growth.