Goldman Sachs Engineering Campus Hiring Program, Last Date – 30 July 2020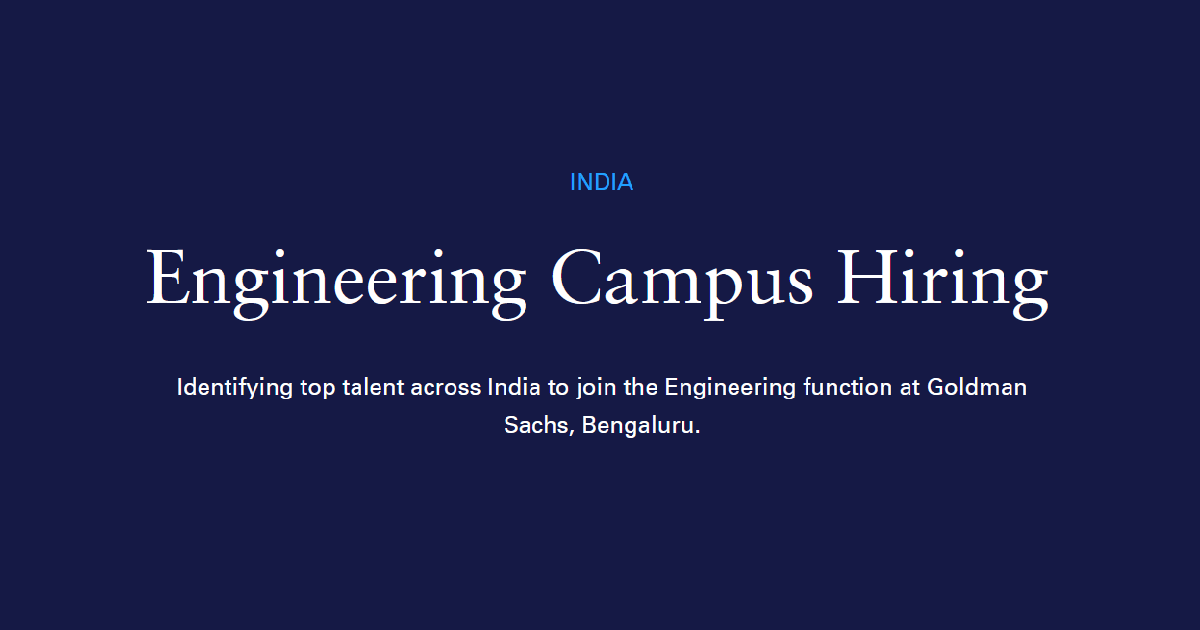 Table of Contents - Job -
Goldman Sachs
Goldman Sachs Engineering Campus Hiring Program
Engineering Campus Hiring Program: Identifying top talent across India to join the Engineering function at Goldman Sachs, Bengaluru.
Program Type: Internship and Full-time
City: Bengaluru / Bangalore
Deadline: Applications open from July 14, 2020 and close July 30, 2020
Analyst: Graduation in 2021
Summer Internship: Graduation in 2022
This program is open to all engineering students in India across pre-final & final year of graduation and post-graduation, and is suited to those with less than 12 months of work experience.
2021 Analyst: Graduation in 2021 (Full-time hire – May/June intake)
2021 Summer Internship: Graduation in 2022 (Intern hire – April/July intake)
Freshers, Interns, Entry Level
Our Engineers build and deploy the innovations that drive our business and extend boundaries.
What We Do
At Goldman Sachs, our Engineers don't just make things – we make things possible. Change the world by connecting people and capital with ideas. Solve the most challenging and pressing engineering problems for our clients. Join our engineering teams that build massively scalable software and systems, architect low latency infrastructure solutions, proactively guard against cyber threats, and leverage machine learning alongside financial engineering to continuously turn data into action. Create new businesses, transform finance, and explore a world of opportunity at the speed of markets.
Engineering is at the critical center of our businesses. Our dynamic environment requires strategic thinking that is innovative and produces smart solutions. Want to push the limit of digital possibilities? Start here.
How We Work
Examples of the types of work Engineers do at Goldman Sachs include Quantitative Strategists, Cyber Security, Software Engineering and Systems Engineering.
Who We Look For
Goldman Sachs Engineers are innovators and problem-solvers, building solutions in risk management, big data, mobile and more. We look for creative collaborators who evolve, adapt to change and thrive in a fast-paced global environment.
We are interested in applicants who possess the following computer science skills:
Strong fundamentals in distributed systems, databases
Design and analysis of algorithms
Implementation of programming languages and run-time systems
Knowledge of finance, stochastic calculus and financial models would be an added advantage.
Program Timelines
Registrations: July 14, 2020 – 9:00am to July 30, 2020 – 11:59pm
Assessments: August 2020 to November 2020
Interviews: November 2020
In the event that Goldman Sachs visits your campus for internship and/or fulltime recruitment, you are advised to apply directly through your respective campus placement process.
Please read all job details clearly and apply exactly as mentioned below only if you meet eligibility criteria.
Last Date to Apply: 30/07/2020
About Company: The Goldman Sachs Group, Inc. is a leading global investment banking, securities and investment management firm that provides a wide range of financial services to a substantial and diversified client base that includes corporations, financial institutions, governments and individuals. Founded in 1869, the firm is headquartered in New York and maintains offices in all major financial centers around the world.

At Goldman Sachs, we think who you are makes you better at what you do. For us, it's about bringing together people who make things possible for our clients and communities.